Web / Magazine / Scholarly Work


Universe As Text
Universe as Text is an education blog that focuses on the teaching of reading, writing, thinking, and speaking in the high school classroom. It includes shared teaching resources, as well as both personal and academic insights from teaching experience in the public school classroom. New posts bi-monthly. See the blog and subscribe at www.universeastext.com. 
.
---
"Speaking Up: The First Amendment and Wisconsin's Public Educators"
"Speaking Up" is an article about how First Amendment free-speech protections apply (or sometimes don't apply) to the lives of public school employees both in and outside of the workplace. As the article explores the question of how teachers may legally express their political and personal views, Wisconsin's legal history surrounding the topic is highlighted.  Read the article in the print or online version of the Apr 1, 2016 issue of Wisconsin Lawyer magazine, Vol. 89, No.4.
.
---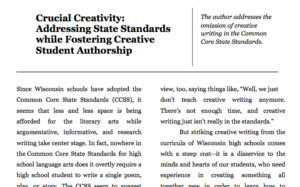 "Crucial Creativity: Addressing State Standards while Fostering Creative Student Authorship"
"Crucial Creativity" addresses the omission of creative writing in the curriculum set forth by the Common Core State Standards in the secondary English classroom, positing a strong argument for the importance of creativity in writing instruction. Read the article in the online version of the Fall 2014 issue Wisconsin English Journal, Vol. 56, No. 2.
.
---
Free Download: Kodak Pony 135 Manual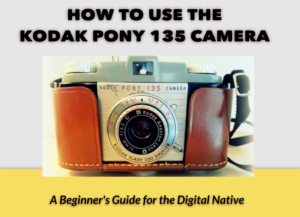 "How to Use the Kodak Pony 135 Camera: A Beginner's Guide for the Digital Native" 
This is a free downloadable resource (.pdf) designed to make vintage film photography with the Kodak Pony 135 more accessible for the modern photographer. Original instructions for these wonderful little cameras are difficult to locate and understand for those without prior experience. If you're lucky enough to have found, bought, or inherited a Pony 135, please click on the image to download the guide for your own use. Learn to use the Kodak Pony 135 and start your film photography journey! If it helps you out, consider buying Amy a coffee with the button below! Happy shooting!