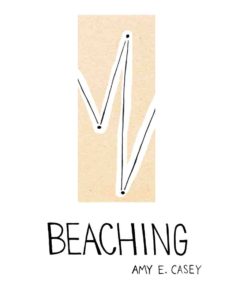 Beaching
The phenomenon of beaching is an intriguing one. Scientists still don't fully understand what makes whales strand themselves, but some have theorized that problems in the whales' navigation and communication abilities may prompt the mistake. "Beaching" explores the connection between the broken human soul and these whales who swim right up onto the sand. Our ability to be in touch with our truest spirit can't always occur in isolation, and some people traverse depths where human connection and joy become compromised, barricaded or forgotten. For both humankind and whalekind, it becomes difficult to find one's way. "Beaching" reminds us of our social responsibility to do what we can to call back those who become stranded in this kind of suffering.
Read the full piece and listen to an author recording in Split Rock Review. Issue 7, Fall 2016.
---
Eveningtime
Pushcart Prize Nominated
"Eveningtime" is a study in simple words, sounds, and lines. It explores the ways that devotion makes us feel able to reach past the impossibility of permanence. The cyclical nature of longing provides the filter through which the poem operates.
Read the full piece featured in Psaltery & Lyre, September 25, 2017. 
---
The Autumn Bee
This poem explores the idea of the aging body and the dogged strength it takes to inhabit it. We are still ourselves, even as we lose our sight, our hearing, our reliable balance.
"The Autumn Bee" was published in the Fall 2017 issue of Sheepshead Review. (Journal appears in print only. Archived issues available.)
---
Wilderness
"Wilderness" is a poem-comic about encountering the natural world. Understanding our human frailty under the gales and bites and vastness is so frightening, so sensual. It stirs us to awe. Physical and emotional wildernesses wait for us all, to enter with vulnerability, to teach us. This piece portrays these encounters, rich with both risk and exaltation.
Read the full piece in Split Rock Review. Issue 13, Fall 2019.
---
Odysseus Alone at Sea
This poem was written for the final issue of NonBinary Review, a publication that uses classical literature as a locus of inspiration for creative work. In this issue, The Odyssey is the central text. "Odysseus Alone at Sea" takes the perspective of a man who has lost everything, save the memory of his wife and his homeland. The poem is about the role of love in our lives when we feel desperate and unmoored, the way it can help us find a way back, but not without cost.
Read the full piece from NonBinary Review, Issue 22, The Odyssey by Homer.